The DAISY Award Recipients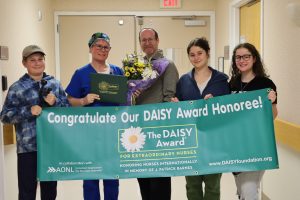 St. Joe's proudly announces Naomi Freedberg , RN, as our first recipient of the esteemed DAISY Award. The Daisy Award is an internally recognized honor given to extraordinary nurses who make a difference in the lives of patients and their families.
Michelle Pullen, the patient's family member, nominated Naomi for the DAISY Award and highlighted her extraordinary support during a challenging time. She provided comfort and solace to her patient nearing the end of life, leaving an indelible mark on the patient's family.
"Naomi's tender, thorough, and compassionate care is unmatched," recalls Michelle in her nomination. She adds, "She spent countless hours at the bedside, engaging with us and displaying a genuine interest in learning more about us and our loved one." Michelle's nomination described Naomi's ability to convey the implications of the patient's worsening condition and gain consent for the necessary steps exhibiting advocacy and a patient centered approach.
Naomi was surprised with the award during her shift, greeted by the patient's daughters and Naomi's parents, husband, and children, along with colleagues and hospital leaders. "I'm just so shocked," she told the small group around her. "I truly feel like I got more out of caring for the patient. It was really a privilege."
Congratulations also to the following DAISY Award Nominees for this quarter:
Kara Calor , CCU
Amy Saucier, CCU
Lindsay Mitchell , CPCU
Lacie Blanchette ASU/PACU
Trista Chase, CPCU
Olivia Ingram, PACU
Megan Dean, Endoscopy
Patricia Kotyk, CPCU
Julie Appel, Float Pool
Cassidy Cox, SO
Natalie Mayo, MN
Marianne Montemurro, Float Pool